The UK's jobs market shows signs of normalising following the Covid upheaval of 2020-2022 but businesses are still struggling to hire workers.
According to the Recruitment and Employment Confederation, nearly 180,000 new jobs came to market over the week to 17 September, up 4% from the previous week and taking the number of open roles in the UK economy to about three million.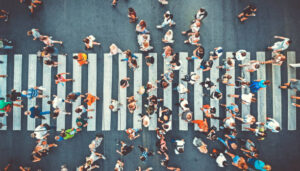 Economic activity is still cooling, however, as the new jobs remain below the post-pandemic weekly increase of more than 200,000. Head of the REC, Neil Carberry, called for growth and a stronger industrial strategy with action by ministers taken over apprenticeships and better immigration routes.
Some of the remotest parts of the UK, the Outer Hebrides and Shetland Islands, had the largest numbers of new job postings, up 14.4 and 13.2% respectively, which may be connected to the approval of the Rosebank oilfield off Shetland.
Carberry said: "Recruiters across the country tell me that the market has normalised over the past few months, falling back from the all-time highs that were driven by opening the economy after the pandemic.
"While employers are facing significant headwinds from inflation and low growth, that is no surprise. But firms still need to hire, as these figures show."
No region in the UK saw a fall in vacancies. Driving instructors saw the largest fall in demand, with active job postings down 18.9%.
Open roles were more than double the level recorded in the same period last year, which the confederation attributed to "shortages in some sectors, and longer decision-making processes from employers in others".
Carberry said: "There is a big sectoral difference in employer behaviour right now. In some – like hospitality – demand for staff is still high and advert growth is being driven by it. With a combined 155,000 active job postings for nursery, primary and secondary teaching professionals and nurses, we see the same trend in parts of the public sector. Wise clients are taking a longer-term view of their hiring plans and working with their agencies to explore new approaches and sustainable supply – a lesson the NHS would do well to learn."
The REC chief executive added that one of the reason posts remained open for so long was that employers were waiting for the right candidate – a potentially mistaken approach. He said: "In other sectors, a slower market has led to clients waiting a little longer for the right candidate. Job postings have stayed live as firms try to find the perfect candidate. Businesses need to remember that the labour market is tighter than we have known for decades and long processes mean losing candidates. Agencies are well placed to help firms run processes that reach the right candidate quickly."
Growth was needed, said Carberry, and businesses wanted to see a strong industrial strategy that takes action on things like the "failing" apprenticeship levy and the "slow and expensive visa system".